Los Angeles Car Accident Attorneys
Fighting for Fair Compensation After a Serious Car Crash
According to the National Highway Traffic Safety Administration (NHTSA), an average of 102 people died in a car accident every day between 2007 and 2016. Here in California, the Office of Traffic Safety (OTS) estimates that traffic fatalities have also increased in recent years, with over 3,623 traffic deaths recorded in 2016 alone.
Those who survive a major car accident may be left with serious injuries and nowhere to turn for financial assistance.
At Greene Broillet & Wheeler, LLP, our Los Angeles car accident lawyers are committed to helping car crash victims and their surviving loved ones by filing a personal injury or wrongful death claim on their behalf. Because we focus our attention on only the most catastrophic injury claims, we have the resources and bandwidth to take on cases that other firms might turn down.
For more information about how we can help with your car accident claim in Los Angeles, Southern California, or nationwide, contact our team at (866) 634-4525.
Car Accident Cases We Handle
Americans tend to rely on privately-owned cars, trucks, and other motor vehicles more than public transportation methods, and this is especially true in the Golden State. Whether you're commuting to work or taking a cross-country road trip, however, there is always the possibility that you will be forced to deal with a devastating crash as a result of a negligent driver's actions or a negligent manufacturing company. When you factor in the unusually heavy traffic congestion throughout Southern California and the Los Angeles metropolitan area, it's easy to see why California often ranks as one of the worst states for drivers.
At Greene Broillet & Wheeler, LLP, we've successfully handled a range of car accident claims for clients throughout the country, including:
Auto Accident Settlements & Verdicts
At Greene Broillet & Wheeler, we have won millions for auto accident victims and their families.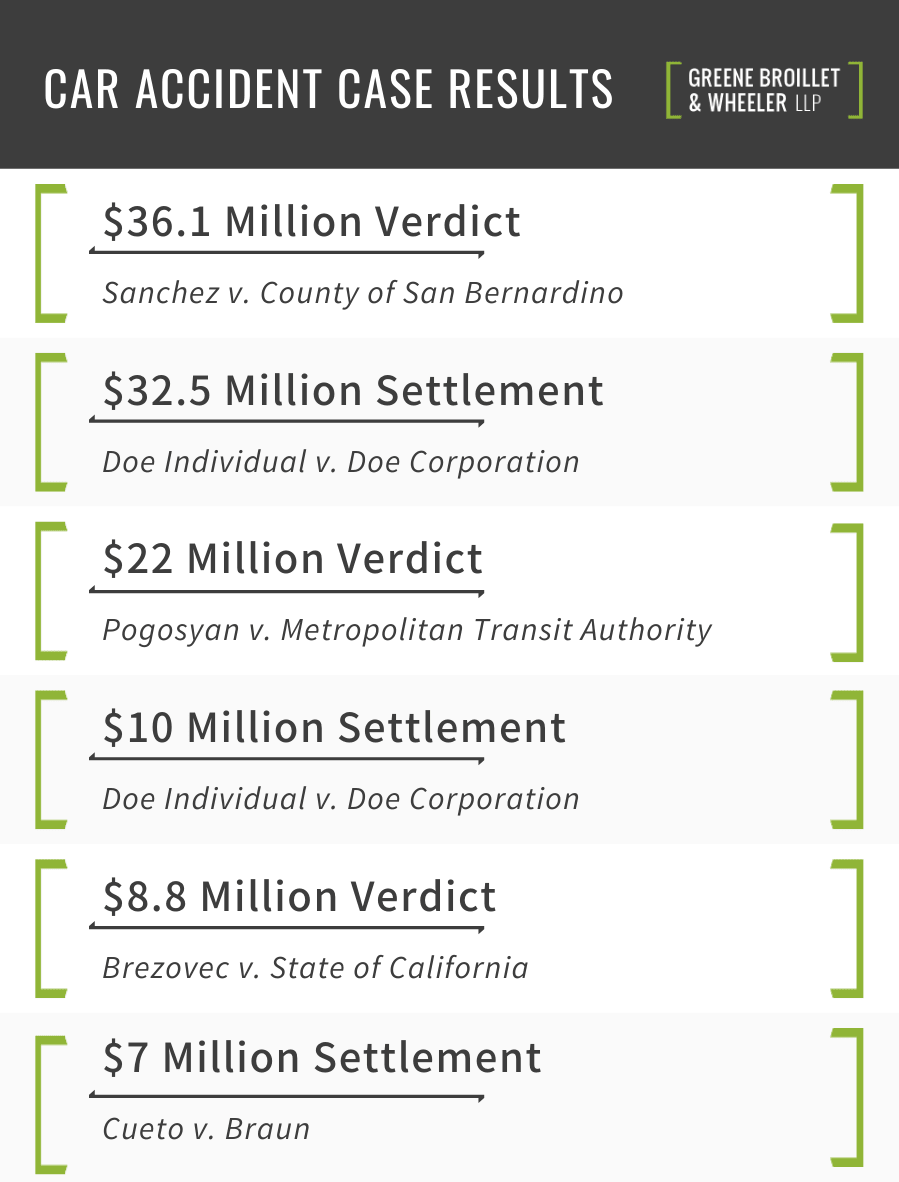 Common Car Accident Injuries
To an accident victim, there's no such thing as a "straightforward" or "simple" car accident claim. However, some crashes are so severe that they leave victims with life-altering physical injuries, disabilities, and decreased quality of life. In the aftermath of a crash like this, you may need immediate hospitalization and surgical intervention just to survive. Long after leaving the hospital behind, you may still suffer from disfiguring injuries and a significant degree of post-traumatic stress. On top of that, it can often be difficult for crash victims to negotiate with insurance providers and secure enough financial resources for their medical bills and other expenses.
In addition to emotional pain and suffering, victims of catastrophic car accidents may suffer the following injuries:
Internal organ damage
Bone fractures
Cuts, bruises, and lacerations
Hemorrhage
Paraplegia and quadriplegia
Who Is Liable for My Car Accident Injuries?
When you've been seriously injured as a result of someone else's negligence, you are entitled to pursue a civil lawsuit against the responsible party and collect "damages" for your medical expenses, pain and suffering, long-term care, lost wages, and other needs. Depending on the nature of your car accident, however, it's possible for multiple parties to be held liable for your losses. From car part manufacturers who fail to consider your safety to drunk drivers on New Year's Eve, there are many individuals and organizations that could potentially be held accountable after a crash.
Some of the most common parties involved in a car accident claim:
Car insurance providers
Automobile manufacturers, sellers, and marketers
A company that leased or rented a vehicle
Commercial employers
Other drivers on the road
Truck drivers and other commercial vehicle operators
Car dealerships
Car mechanics and auto shops
The government agency or property owner responsible for the road
Construction site planners and managers
Understanding Your Police Accident Report
After a car accident, there are many steps to take and the pressure can feel overwhelming. One of the most important steps is to complete and obtain a copy of your California traffic accident report. An experienced Los Angeles car accident attorney can help you understand your police accident report and answer other questions about documents you may need to bring an effective insurance claim or lawsuit.
What Will Be Included in Your Traffic Accident Report?
Police accident reports tend to include information about the accident and the individuals involved, including:
The location, date and time of the car accident
A description of the accident, including damages and injuries
The names, addresses, birth dates and license numbers of all drivers involved in the accident
The names and addresses of the owners of the vehicles involved in the accident
The license plate numbers of all vehicles involved in the car accident
Insurance companies and policy numbers
The insurance policyholders' contact information
A police report can be a helpful tool during a car accident lawsuit. It can provide information regarding what the police and certain witnesses believe caused the accident and the damage. In fact, the police accident report can be one of the most authoritative documents in a car accident case. That is why it is so important for you to use details when you file an accident report – and why you should obtain a copy of the report immediately after your accident.
How Can You Get a Copy of Your CHP Collision Report?
If you were involved in an accident on a California highway, you can ask the California Highway Patrol for a copy of the investigated collision report by going to the CHP office or mailing in a CHP 190, Application for Release of Information, and a copy of your driver's license. A CHP report can cost between $10 and $40 depending on how many pages it contains ($10 for one to 25 pages, for example).
Dedicated Advocates for Your Accident Claim
At Greene Broillet & Wheeler, LLP, we have the resources, experience, and dedication to handle all the legal aspects of your car accident while you focus on recovering. With billions recovered for our clients throughout Southern California and Los Angeles, we've shown a track record that can only be described as a tradition of success. Committed to upholding that tradition of success, we fight on behalf of catastrophically-injured victims and offer our services on a convenient, contingency fee basis.
Need to speak with an attorney? Call (866) 634-4525 or contact us online today to start exploring your legal options after an accident.