Los Angeles Car Accident Lawyers
At Greene Broillet & Wheeler, our seasoned team of professionals have over 100 years of combined legal experience handling complex legal matters.
Los Angeles Car Accident Attorneys
Fighting For Those Injured in Catastrophic Car Crashes
Those who survive a major car accident may be left with serious injuries and nowhere to turn for financial assistance. At Greene Broillet & Wheeler, LLP, our car accident Attorneys in Los Angeles are committed to helping car crash victims and their loved ones by filing a personal injury or wrongful death claim on their behalf.
Because we focus our attention on only the most catastrophic injury claims, we have the resources and bandwidth to take on cases that other firms might turn down.
To find out how our Los Angeles catastrophic car accident lawyers can help with your car accident claim, contact our firm at (866) 634-4525.
We Handle a Variety of Catastrophic Car Accidents
Our Los Angeles Car Accident Attorneys have the experience to take an all types of car accident claims for clients across the country.
Types of serious car accident cases we handle:
A Los Angeles car accident attorney from our firm will help you find the party that is responsible for your accident and help you recover the compensation you need. Remember, don't risk your future on a car crash in Los Angeles, get a car accident attorney near you who knows how to build a strong case.
What Are the Common Car Accident Injuries in Los Angeles?
To an accident victim, there's no such thing as a "straightforward" or "simple" car accident claim. However, some crashes are so severe that they leave victims with life-altering physical injuries, disabilities, and decreased quality of life.
In the aftermath of a crash like this, you may need immediate hospitalization and surgical intervention just to survive. Long after leaving the hospital behind, you may still suffer from disfiguring injuries and a significant degree of post-traumatic stress. On top of that, it can often be difficult for crash victims to negotiate with insurance providers and secure enough financial resources for their medical bills and other expenses.
In addition to emotional pain and suffering, victims may suffer the following injuries:
Internal organ damage
Bone fractures
Cuts, bruises, and lacerations
Hemorrhage
Paraplegia and quadriplegia
What Is the California Car Accident Statute of Limitations?
In California, the statute of limitations for car accidents is two years from the date of the accident. This means that if you don't file a lawsuit within two years, you will likely be unable to recover damages for your injuries. However, there are some exceptions to this rule. For example, the deadline may be extended if the car accident was caused by a minor or someone lacking mental capacity.
If you're not sure whether you have a case, it's important to speak with our Los Angeles car accident attorneys as soon as possible. We will be able to help you understand the statute of limitations and determine whether you have a case.
Who Is Liable for My Injuries & Losses After a Car Accident?
When you've been seriously injured as a result of someone else's negligence, you are entitled to pursue a civil lawsuit against the responsible party and collect damages for your medical expenses, pain and suffering, long-term care, lost wages, and other needs. Depending on the nature of your car accident, however, it's possible for multiple parties to be held liable for your losses. From car part manufacturers who fail to consider your safety to drunk drivers on New Year's Eve, there are many individuals and organizations that could potentially be held accountable after a crash.
Some of the most common parties involved in a car accident claim:
Car insurance providers
Automobile manufacturers, sellers, and marketers
A company that leased or rented a vehicle
Commercial employers
Other drivers on the road
Truck drivers and other commercial vehicle operators
Car dealerships
Car mechanics and auto shops
The government agency or property owner responsible for the road
Construction site planners and managers
Our Car Accident Settlements & Verdicts
At Greene Broillet & Wheeler, our Los Angeles car accident law firm has won millions for auto accident victims and their families.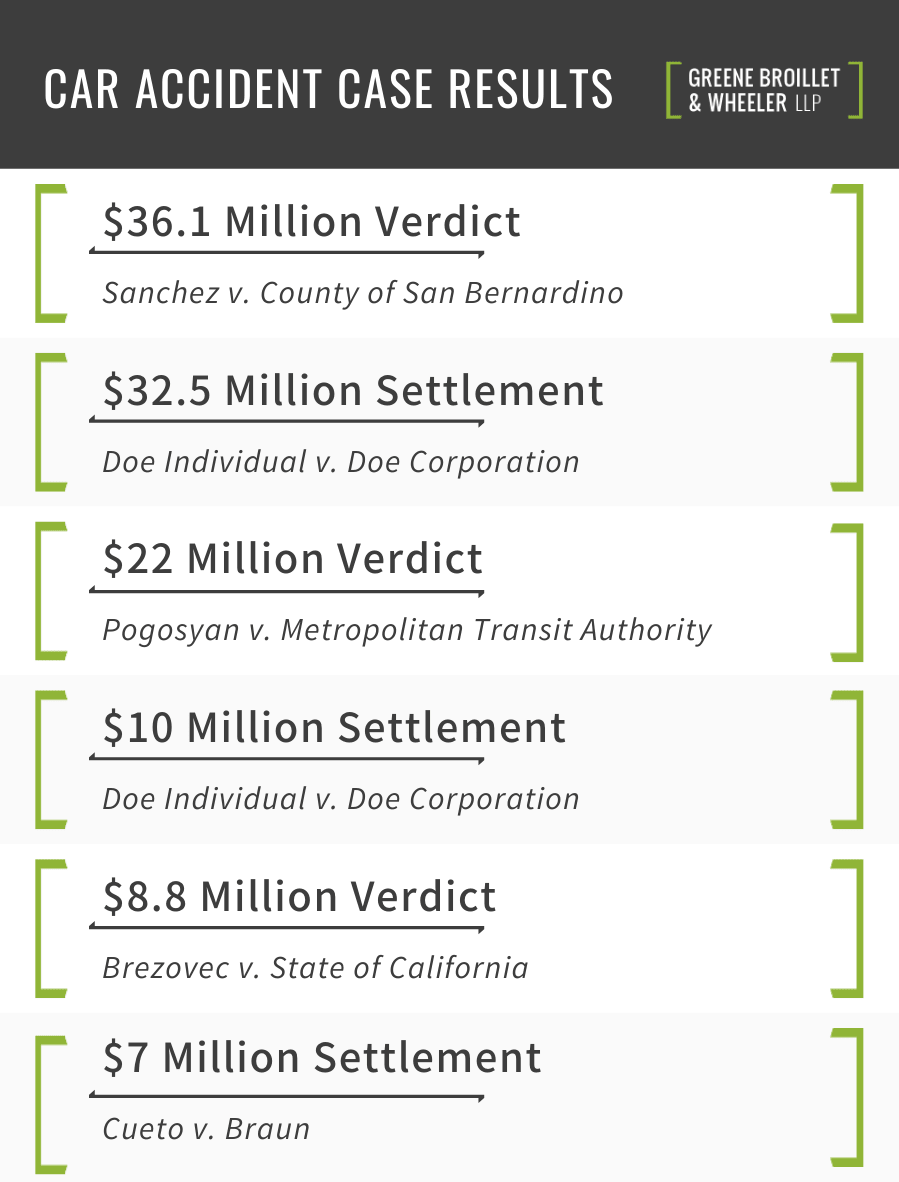 Why Is Filing a Police Report After a Wreck So Important?
After a car accident, there are many steps to take and the pressure can feel overwhelming.
One of the most important steps is to complete and obtain a copy of your California traffic accident report. An experienced car accident attorney in Los Angeles can help you understand your police accident report and answer other questions about documents you may need to bring an effective insurance claim or personal injury lawsuit.
What's Included in a Traffic Accident Report?
Police accident reports tend to include information about the accident and the individuals involved, including:
The location, date and time of the car accident
A description of the accident, including damages and injuries
The names, addresses, birth dates and license numbers of all drivers involved in the accident
The names and addresses of the owners of the vehicles involved in the accident
The license plate numbers of all vehicles involved in the car accident
Insurance companies and policy numbers
The insurance policyholders' contact information
A police report can be a helpful tool for your car accident lawsuit. It can provide information regarding what the police and certain witnesses believe caused the accident and resulting damage. In fact, the police accident report can be one of the most authoritative documents in a car accident case.
That is why it is so important for you to use details when you file an accident report – and why you should obtain a copy of the report immediately after your accident.
How to Get a Copy of Your CHP Collision Report
If you were involved in an accident on a California highway, you can ask the California Highway Patrol for a copy of the investigated collision report by going to the CHP office or mailing in a CHP 190, Application for Release of Information, and a copy of your driver's license. A CHP report can cost between $10 and $40, depending on how many pages it contains.
Get Started Today with a Free Consultation with Our Car Accident Attorneys in Los Angeles
At Greene Broillet & Wheeler, LLP, our car accident attorneys have the resources, experience, and dedication to handle all aspects of your case while you focus on recovering. With billions recovered for our clients throughout Southern California and Los Angeles, we've shown a track record that can only be described as a tradition of success.
Committed to upholding that tradition of success, we fight on behalf of catastrophically-injured victims and offer our services on a convenient, contingency fee basis.
Looking for a Los Angeles car accident lawyer who will help you with your claim? Call (866) 634-4525 or contact us online to start exploring your legal options with Greene Broillet & Wheeler.
HELPING OUR CLIENTS TELL THEIR STORY & GET THE COMPENSATION THEY DESERVE
Named in U.S. News - Best Lawyers® "Best Law Firms," Greene Broillet & Wheeler, LLP ranks as Tier 1 Personal Injury firm in Los Angeles.

Founding partners Browne Greene and Bruce A. Broillet are both members of the exclusive invite-only Inner Circle of Advocates, as two of the top 100 plaintiff trial lawyers in America.

All of our attorneys are proud to be active members of the Los Angeles County Bar Association or LACBA.

Many firm members have been honored by the Consumer Attorneys of California, including Browne Greene, Christine Spagnoli, and Bruce Broillet, recipients of the Marvin E. Lewis Award. In addition, attorneys Bruce Broillet, Scott Carr, Molly McKibben, and Tobin Lanzetta has been honored with the Consumer Attorney of the Year Award.

All 15 of our attorneys have been selected to Best Lawyers® after an extensive peer review process.

Our attorneys were featured in TopVerdict for having one of the Top 10 Wrongful Death Verdicts in California in 2019, with $15 million won for the plaintiff in Keck v. Bel-Air Bay Club.

Our firm has more attorneys on the Super Lawyers® and Rising Stars lists than any other law firm in Southern California, with 15 members selected.

Several partners are active members in the Consumer Attorneys Association of Los Angeles, with attorneys Browne Greene, Bruce Broillet, and Christine Spagnoli named "Trial Lawyer of the Year."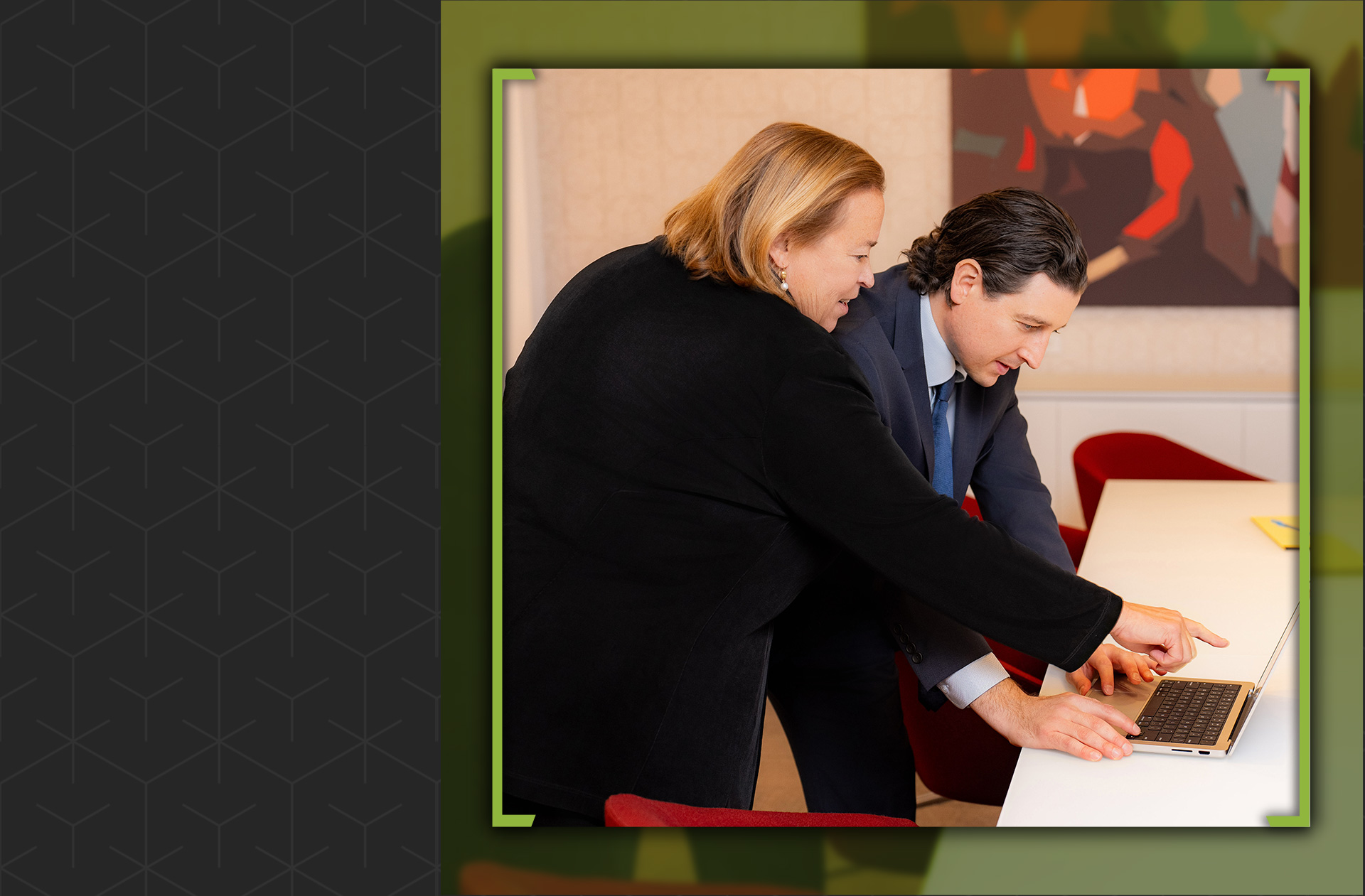 Decades of Legal Experience

Billions Recovered For Our Clients

We're Always Available For Our Clients & Offer Free Consultations

We've Taken On Some of The Largest Corporations & Insurance Agencies
Billions Recovered
Schedule a Free Consultation at

(866) 634-4525