GBW Files Lawsuit Against Roundtrip Transportation for Sexual Assault of 25-Year-Old Disabled Woman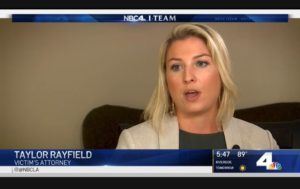 GBW's Taylor Rayfield was featured on NBC Channel 4 discussing her case where a 25-year-old disabled woman was raped and impregnated by a bus driver who was hired to transport her and other disabled persons to a day program. The young woman has cerebral palsy, scoliosis, and the mental capacity of a 9-year-old, and had to terminate the pregnancy. A DNA test revealed that the father was the driver of the bus. Taylor has brought a lawsuit on the young woman's behalf against Roundtrip Transportation for failing to properly supervise the driver and protect the young woman. Watch video.
Helping Our Clients Tell
Their Story & Get The Compensation They Deserve

We've Recovered Billions of Dollars & Handled a Wide
Range Of Complex Cases
Best Law Firms by US News

Named in U.S. News - Best Lawyers® "Best Law Firms," Greene Broillet & Wheeler, LLP ranks as Tier 1 Personal Injury and Product Liability firm in Los Angeles.

Super Lawyers®

Our firm has more attorneys on the Super Lawyers® and Rising Stars lists than any other law firm in Southern California, with 15 members selected.

American Board of Trial Advocates

Several of our partners are members in the American Board of Trial Advocates, a national invite-only association consisting of the most experienced trial lawyers.

The Inner Circle of Advocates

Founding partners Browne Greene and Bruce A. Broillet are both members of the exclusive invite-only Inner Circle of Advocates, as two of the top 100 plaintiff trial lawyers in America.

LACBA

All of our attorneys are proud to be active members of the Los Angeles County Bar Association or LACBA.

Consumer Attorneys of California

Many firm members have been honored by the Consumer Attorneys of California, including Browne Greene, Christine Spagnoli, and Bruce Broillet, recipients of the Marvin E. Lewis Award. In addition, attorneys Bruce Broillet, Scott Carr, Molly McKibben, and Tobin Lanzetta has been honored with the Consumer Attorney of the Year Award.

International Society of Barristers

Our team includes several Fellows and Associates with the invite-only International Society of Barristers in recognition of their trial advocacy.

International Academy of Trial Lawyers

Bruce A. Broillet and Christine D. Spagnoli are Fellows with the invite-only International Academy of Trial Lawyers, a group of elite trial lawyers from over 30 countries.

CAALA

Several partners are active members in the Consumer Attorneys Association of Los Angeles, with attorneys Browne Greene, Bruce Broillet, and Christine Spagnoli named "Trial Lawyer of the Year."

WLALA

Firm partners Christine D. Spagnoli and Molly McKibben have both been honored by the Women Lawyers Association of Los Angeles and are active members.

America's Top 100 High Stakes Litigators

As a member of America's Top 100 High Stakes Litigators®, founding partner Bruce Broillet joins a select group of California lawyers. Only 0.5% of active attorneys in the United States receive this honor.

American College of Trial Lawyers

A preeminent trial lawyers' organization in North America, the American College of Trial Lawyers have elected firm partners Bruce Broillet, Mark Quigley, and Geoffrey Wells as Fellows.