GBW's Christine Spagnoli Obtains $25.9 Million Verdict in Deadly Church Van Rollover Trial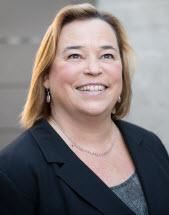 NEW PORT RICHEY, FL — As co-lead trial counsel, Christine Spagnoli obtained a $25.9 million jury verdict against Ford Motor Company and the First Baptist Church of New Port Richey for the wrongful death of a 44-year-old wife and mother of four.
Michalanne Salliotte died on February 21, 2014 when a church van full of people heading to a youth camp in Georgia crashed in North Florida. Two people, including Salliotte, died and eight other people suffered injuries. While heading north on Interstate 75 in Lake City, the tread separated from the left rear tire, causing the 2002 E-350 Ford to rollover, ejecting four people.
Salliotte's surviving husband, Jeff, and their four children sued Ford for defectively designing its vehicle with an extra row of seats without dual rear tires, making the van unstable and susceptible to loss of control.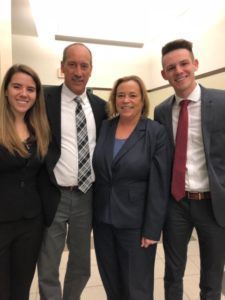 Michalanne, who was unbelted, was ejected in the rollover. The plaintiffs successfully argued that the seatbelts were defectively designed and were inaccessible because the buckles fell under the bench seats. The attorneys also argued that the First Baptist Church negligently maintained the van and had a responsibility to ensure that the seatbelts were accessible to van occupants.
On March 15, 2018, a Pasco County Florida jury returned the verdict against the defendants, determining that Ford put the E350 Passenger Van on the market with faulty seat belts and a defective rear-wheel bustleback design.
The plaintiffs' legal team included Frank Melton and Richard Newsome with Newsome Melton Law Firm in Orlando, FL and Christine Spagnoli with the Santa Monica, CA plaintiff's firm Greene Broillet & Wheeler, LLP.
Helping Our Clients Tell
Their Story & Get The Compensation They Deserve

We've Recovered Billions of Dollars & Handled a Wide
Range Of Complex Cases
Best Law Firms by US News

Named in U.S. News - Best Lawyers® "Best Law Firms," Greene Broillet & Wheeler, LLP ranks as Tier 1 Personal Injury and Product Liability firm in Los Angeles.

Super Lawyers®

Our firm has more attorneys on the Super Lawyers® and Rising Stars lists than any other law firm in Southern California, with 15 members selected.

American Board of Trial Advocates

Several of our partners are members in the American Board of Trial Advocates, a national invite-only association consisting of the most experienced trial lawyers.

The Inner Circle of Advocates

Founding partners Browne Greene and Bruce A. Broillet are both members of the exclusive invite-only Inner Circle of Advocates, as two of the top 100 plaintiff trial lawyers in America.

LACBA

All of our attorneys are proud to be active members of the Los Angeles County Bar Association or LACBA.

Consumer Attorneys of California

Many firm members have been honored by the Consumer Attorneys of California, including Browne Greene, Christine Spagnoli, and Bruce Broillet, recipients of the Marvin E. Lewis Award. In addition, attorneys Bruce Broillet, Scott Carr, Molly McKibben, and Tobin Lanzetta has been honored with the Consumer Attorney of the Year Award.

International Society of Barristers

Our team includes several Fellows and Associates with the invite-only International Society of Barristers in recognition of their trial advocacy.

International Academy of Trial Lawyers

Bruce A. Broillet and Christine D. Spagnoli are Fellows with the invite-only International Academy of Trial Lawyers, a group of elite trial lawyers from over 30 countries.

CAALA

Several partners are active members in the Consumer Attorneys Association of Los Angeles, with attorneys Browne Greene, Bruce Broillet, and Christine Spagnoli named "Trial Lawyer of the Year."

WLALA

Firm partners Christine D. Spagnoli and Molly McKibben have both been honored by the Women Lawyers Association of Los Angeles and are active members.

America's Top 100 High Stakes Litigators

As a member of America's Top 100 High Stakes Litigators®, founding partner Bruce Broillet joins a select group of California lawyers. Only 0.5% of active attorneys in the United States receive this honor.

American College of Trial Lawyers

A preeminent trial lawyers' organization in North America, the American College of Trial Lawyers have elected firm partners Bruce Broillet, Mark Quigley, and Geoffrey Wells as Fellows.