Distracted driving has real-world consequences. Often, those who were driving safely themselves are seriously injured or killed because another motorist was driving while distracted. This is precisely what happened in the devastating truck crash involving a FedEx double trailer and a motorcoach. Learn more about this case and its ramifications.
What Happened on April 10, 2014?
On April 10, 2014, at approximately 5:40 pm, a FedEx Freight tractor-trailer crossed over the center median of I-5 and struck a charter bus carrying high school students who were going on a tour of Humboldt State University. The crash and subsequent fire killed nine occupants of the bus and injured thirty-six.
The photo below illustrates the path the FedEx truck took as it veered off the road and into oncoming traffic.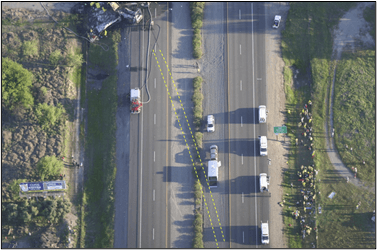 In this case, our firm, representing the plaintiffs, sought to demonstrate that the truck driver's use of a phone immediately prior to the crash contributed to him failing to maintain control of the vehicle.
The defense, representing FedEx, sought to demonstrate that the truck driver was not negligent because he suffered a sudden unexpected medical emergency that caused him to lose control of the vehicle.
However, we found that the truck driver's phone records demonstrated that, immediately before the crash, he had been using the mobile internet available on his phone for approximately two minutes.

This evidence was supported by the truck driver's phone bill, showing data usage high enough to include one of the following:
A sent or received text message
A message on a web-based messaging app
Viewing a photo or article on the internet
Accessing or refreshing a mobile site
Using the internet to check the weather, the news, or a sports score
The driver's phone records, combined with records from his truck's GPS system, demonstrated that on almost a daily basis, the driver violated company rules by using his phone to text, call, and use the internet while driving. As the cases headed to trial, the judge denied FedEx's motions in limine to keep the jury from hearing about the driver's cell phone and driving records and his pattern of using his phone while driving. These rulings led to confidential settlements as the lawyers were about to select a jury. This case served as a tragic example of the potentially deadly consequences of distracted driving, and how such tragedies can be so easily avoided when drivers do not participate in dangerous behaviors while behind the wheel.
If you or someone you love has been injured in a distracted driving crash, our Los Angeles trial attorneys are here to fight for you. Learn how we may help you seek justice after such an event.
Call Greene Broillet & Wheeler, LLP at (866) 634-4525 to schedule a free consultation.