Summer is the favorite season of many. It is full of festivals, parties, barbecues, and other fun activities. However, summer is also host to several holidays that find people drinking during the day and long into the night.
Data has shown that car crashes are more prevalent, particularly for teen drivers, during the so-called "100 Deadliest Days of Summer." Below, we pinpoint when the 100 Deadliest Days of Summer are and discuss the factors that have earned this time period its notorious nickname.
The 100 Deadliest Days of Summer
The 100 Deadliest Days of Summer is the time period from the unofficial start of summer, Memorial Day, all the way to the unofficial end of summer, Labor Day. During this time period from 2010 to 2019, more than 7,000 people died in teen driving-related summertime crashes. This amounts to roughly seven people every day, which outpaces the approximate six people killed in car crashes every day during the rest of the year.
This startling trend doesn't end at teen drivers, however. According to the National Safety Council, the motor vehicle deaths and mileage death rates for all motorists noticeably increase from July through September, when compared to the rest of the year. The NSC breaks down the data in the chart below and with the following metrics: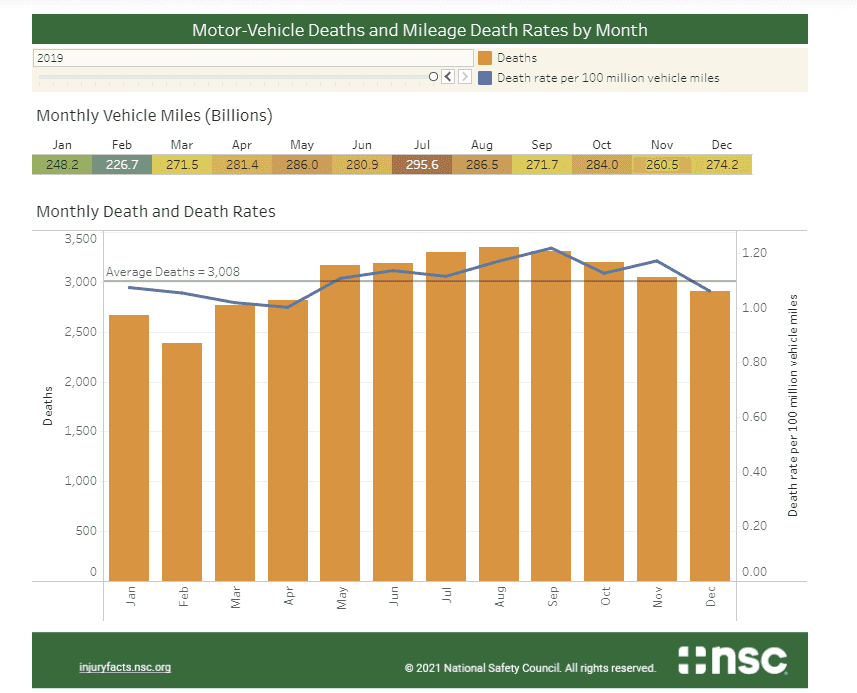 https://injuryfacts.nsc.org/motor-vehicle/overview/crashes-by-month/
In 2019, the last year that data was available, February was the month with the fewest motor-vehicle deaths; the most deaths occurred in August.
In terms of death rate per 100 million vehicle miles, the lowest rate occurred in April and the highest was in September. This is a more accurate measure of risk when comparing trends because it corrects for the variation in monthly mileage.
Much of the variation in monthly motor-vehicle deaths is associated with the number of vehicle miles. Since fewer people travel on the road in the winter months, fewer fatal accidents occur during that time period. Likewise, traffic is heavier in the summer months and hence leads to more fatal crashes.
Common Causes of Summer Car Crashes
The summertime crash trend is apparent, but why does it occur? For teen drivers in particular, they may engage in the following behaviors that increase the chances of a crash:
Distracted driving. One in three teens who text admit they have done so while driving. However, texting is not the only form of distraction that manifests in a vehicle. Other distractions include smartphone use, loud music, passengers, pets, and more.
Not wearing seatbelts. According to the National Highway Traffic Safety Administration (NHTSA), 45% of the teen drivers who died in crashes in 2018 were unbuckled.
Speeding. Speeding was a factor in 28% of the fatal crashes involving teen drivers. A recent study concluded that teens' speeding behavior increases over time as they gain more confidence in driving.
Peer pressure. In a study analyzed by the NHTSA, teen drivers were two-and-a-half times more likely to engage in risky behaviors while driving if they had a teenage peer in the car. This number increases to three times when there are multiple passengers.
Although the Centers for Disease Control and Prevention (CDC) reports that the risk of motor vehicle crashes is higher among teens aged 16-19 than among any other age group, teens are not the sole cause of crashes during the summer. Adults can engage in distracted driving, drunk driving, and drowsy driving, and so it is important for you to know how to protect your rights after any type of crash caused by a driver of any age.
What to Do After a Car Crash
A car crash can be sudden and overwhelming. If you are able, it is smart for you to take as many of the following steps as you can to help strengthen your claim down the line:
Seek medical attention for your injuries and keep records of treatment received.
Exchange contact, vehicle, and insurance information with the other driver.
Take photos of any injuries and property damage at the scene.
Request a copy of the responding officer's police report.
See if there are any nearby traffic or security cameras whose footage can be used as supporting evidence.
Gather contact information from any witnesses at the scene.
Another crucial step is to contact an experienced personal injury attorney as soon as possible. Serious car crashes may leave you with significant injuries, some of which may not present themselves until weeks or even months later--particularly those involving the head and brain.
A qualified attorney will be able to analyze the details of your case and work to recover the maximum possible compensation that you may need down the line.
What Damages Can You Recover After a Car Crash?
By filing a claim after a car crash, you may recover funds for critical services you may need down the line. Sometimes, car crashes can result in serious permanent injuries that prevent you from returning to work or earning an income. This is why filing a claim after a crash is vital because it can provide financial support for you when you can no longer work. Such funds may be used for the following:
Past and future medical bills
Past and future lost wages
Psychological and physical therapy
In-home or long-term medical care
Home renovations to accommodate wheelchairs or other medical devices
Pain and suffering
Loss of enjoyment of life
It's important to note that the driver of the other vehicle may not be the only liable party for a car crash. California is a "pure comparative negligence" state, meaning that when an accident is caused by someone's negligence, liability can be shared by more than one party. This can be true for crashes involving commercial vehicles.
Since commercial vehicles like trucks, taxis, limos, and more are often owned or leased by a large organization, there can be many parties involved in these vehicles' operation. As such, there can be many parties that may be held liable for any defect or negligence related to the vehicle involved in a crash. These parties can include:
The vehicle driver
The vehicle's operating company
The vehicle's manufacturer
The manufacturer of the vehicle's parts
The staff that loaded cargo into the vehicle
Given the potentially complex nature of commercial vehicle accidents, it is wise for you to work with a qualified attorney who can sort out the details and help you recover maximum compensation.
Injured in an Auto Accident? Contact Us Today
While summer is a season that goes off without a hitch for most families, the data shows that this time of year poses significant threats to drivers. If you or someone you love has been injured in an auto accident, our Los Angeles trial attorneys at Greene Broillet & Wheeler, LLP are here to help. We have helped countless auto accident victims recover millions of dollars after devastating accidents, and we want to help you move forward from any similar situation you have experienced.
Call Greene Broillet & Wheeler, LLP at (866) 634-4525 to schedule a free consultation.